You've got to agree with us on this point- smartwatches (with BT calling) have totally revolutionized the watch industry. Simply by starting off with to-do lists, calculators etc, smartwatches today can help you take care of your health and sleep while also encouraging you to crush your fitness goals.
Just when we thought it couldn't get better, smartwatches surprised us by introducing the BT setup that makes your calling experience smoother and simpler. 
What does a BT calling smartwatch do?
A Bluetooth calling smartwatch is capable of notifying you about the calls/texts/emails/notifications you get without waking your phone. In simpler terms, if your phone is ringing in your pocket, the smartwatch on your wrist will automatically tell you who's calling, and this way you can prioritize whether you want to take the call or not.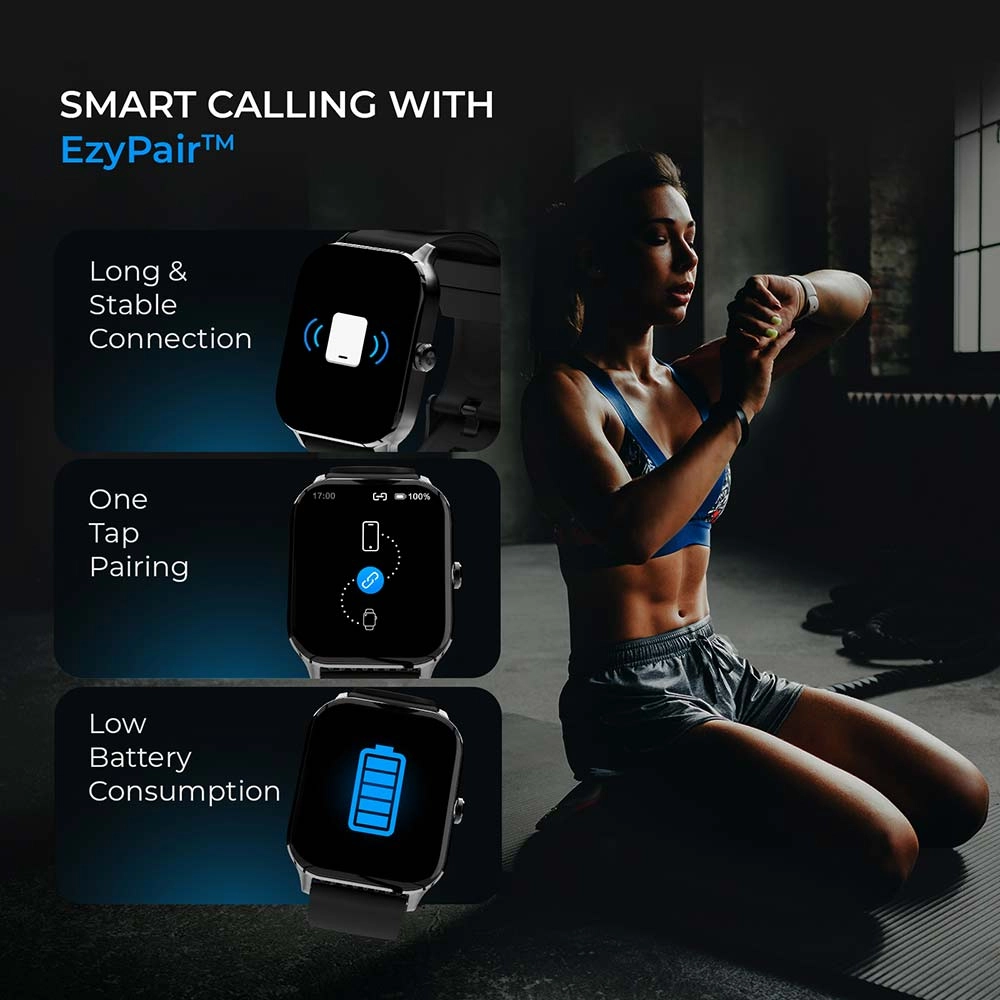 On the other hand, there are advanced smartwatches that even allow you to make and receive calls from your phone your wrist! Yes, with large displays that comfortably allow you to dial, these smartwatches have totally redefined the calling experience. 
Additionally, you also get to reply to texts and emails from your wrist. So, what are your best options when it comes to buying a BT calling smartwatch? We have carefully curated the best ones for you- here let's take a detailed look: 
beatXP Marv Series:
The beatXP Marv Series comprises Marv, Marv Neo and Marv Super smartwatches. Be it your corporate look, or a casual night out, these smartwatches add class to your wardrobe. 
Equipped with the latest BT setup to help enhance your calling experience, Marv and Marv Neo seamlessly pair with your phone. The best part is that you get a 1.85" display that allows you to comfortably dial and receive calls. The peak brightness of both Marv and Marv Neo is 560 nits. 
Both these smartwatches make it extremely easy to handle calls from your wrist. Additionally, you get access to instant notifications on your wrist anytime, anywhere. You also don't have to worry about your smartwatch running out of charge every 4-5 hours. Both Marv and Marv Neo have a long battery life. 
Apart from making your calling convenient, Marv and Marv Neo track your health, sleep and fitness for you. You get multiple sport modes that encourage you to stay active throughout the day. IP68 water resistance, voice assistance, multiple watch faces, and games are other impressive features. You can get Marv at Rs 2499 while Marv Neo will cost you just Rs 1999 on the official website. 
beatXP Marv Super:
Also a part of the Marv Series, Marv super features a 2.0" huge display making your calling experience effortlessly enhanced and advanced. With BLE 5.1 + BT 3.0, make hassle free calls and enjoy a hands free speaker experience.
One of the best BT calling smartwatches, Marv Super also tracks your health, sleep, fitness along with offering you 100+ sport modes. 
beatXP Unbound and Unbound Neo: 
A flaunt worthy range, Unbound and Unbound Neo feature a 1.8" AMOLED display offering more detail and extra clarity. 
What makes it one of the best BT calling smartwatch collections? 
Equipped with EzyPair technology, Unbound and Unbound Neo help you handle calls hassle free from your wrist. No need to look for your phone to check for every notification or call you get, as all of that is accessible within a glance. 
Apart from redefining your calling experience, Unbound and Unbound Neo offer a 60 Hz refresh rate along with health, sleep, fitness tracking and more.
You can get Unbound Neo for just Rs 2799.
On the other hand, if you're a fan of always on display, you can grab Unbound for Rs 3999. 
Here is the video of beatXP Unbound:
Also, checkout the beatXP Unbound Neo:
This is your chance to own the best BT calling smartwatches at the best price. Redefine your calling experience and explore the latest, advanced BT setup in beatXP smartwatches. 
Keep following us for more updates about our latest smartwatches.