Tired of surfing around the internet trying to find the perfect valentine's day gift for him? We are sure you looked through shirts and perfumes, but didn't you give him that for his birthday as well? Think different, think smart this time. A gift is best when it's thoughtful, and we might have the perfect collection of smartwatches for him that he's going to love! 
But what do you want in a smartwatch? Well, the beatXP range of smartwatches has everything- right from accuracy to elegance, stylish to being sleek and lightweight along with being alert and active. Here are some classic smartwatches that he's not just going to adore, but will actually benefit him. 
Exact Smartwatch
Measures health vitals accurately and increases love immeasurably! – beatXP Exact smartwatch- the perfect valentine's day gift. 
Accuracy builds credibility- there is no denying that. Imagine surprising him with a smartwatch that is accurate and helps him track his health vitals precisely. As the name suggests, beatXP Exact has pretty accurate sensors that track your health vitals very accurately. Actually it's the main USP of this smartwatch- you can trust the health data as it provides expert-like care. 
Even getting an ECG is very easy, you can do it in like 30 seconds on the watch and send the report to any doctor anywhere in the world. Apart from that, beatXP Exact tracks vitals like heart rate, spo2, blood pressure, body temperature for you. Additionally, the pedometer counts your steps for you, motivating him to stay active and walk more.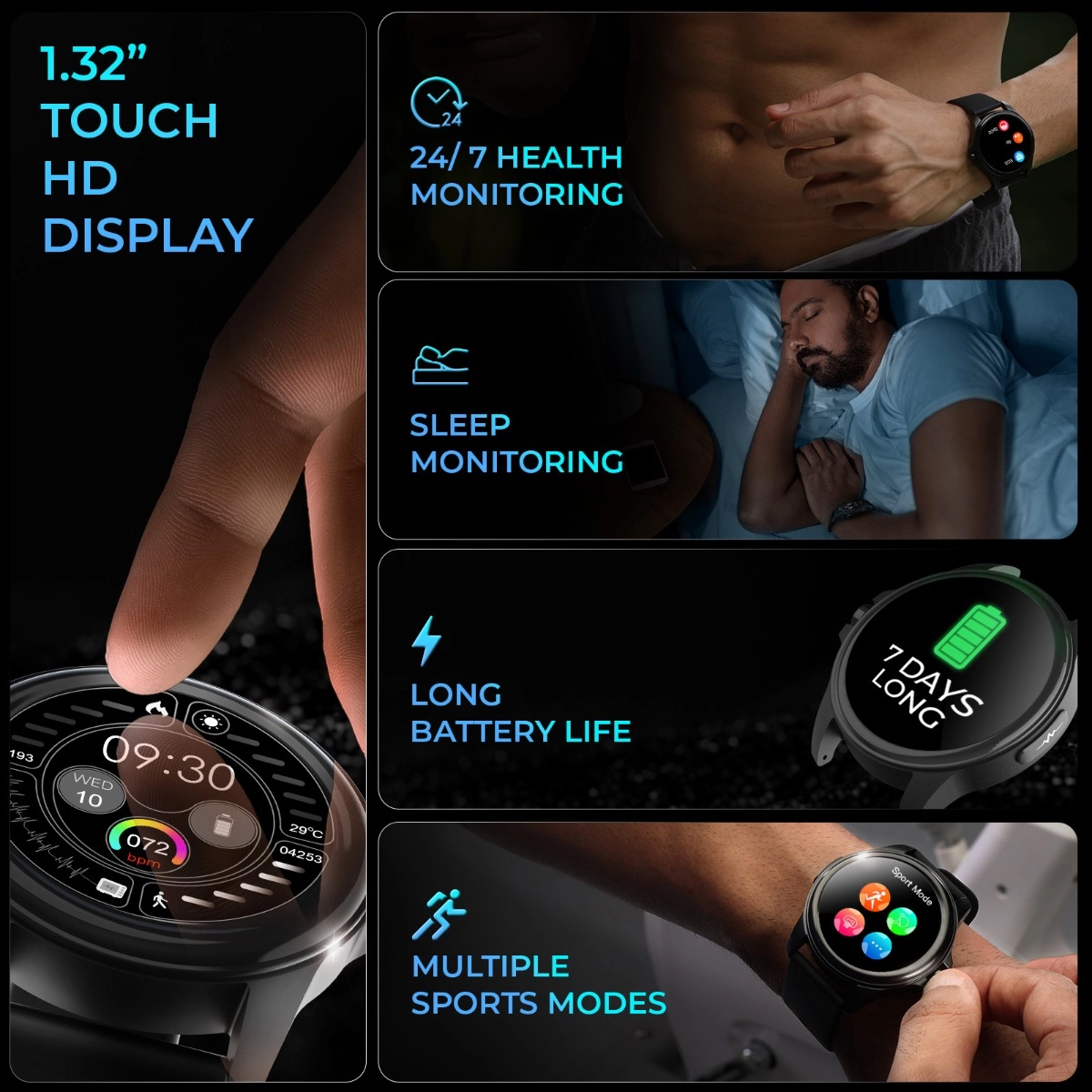 Another feature that he is absolutely going to love you for is the remote monitoring. This Valentines, how about along with your man, you surprise your family with the beatXP Exact smartwatch? Even if you stay away from home, this watch tracks your parents' and loved ones' health and keeps you updated. All you gotta do is sync their smartwatches with the Exact app on your phone. Show us a better way to say you care! 
Don't worry about how it's going to look on his wrist as we have designed beatXP Exact to be exactly excellent, elegant and classy! A perfect combination of accuracy with grace, this smartwatch will shine with the aesthetic crystal display and a full circle 1.32-inch high-resolution 360*360 touch screen.
Already imagining how good it is going to look? We get you! 
Apart from all these mesmerizing features, beatXP Exact tracks sleep accurately, is IP68 water resistant, and also alerts you about calls and texts with just a glance. On your valentines' dinner date, he wouldn't have to wake his phone for every text he gets; it's all on the wrist! 
The battery keeps you going uninterrupted, and the active sport modes encourage you to stay fit and healthy. So, let him sweat in style with beatXP Exact. 
Kind of the best valentine's gift, isn't it? 
Unbound Smartwatch
On the other hand, if your man likes something slightly different, a little over the top, beatXP Unbound is the best valentine's gift for him. Crafted for pure brilliance, the display of this smartwatch will spark his imagination, and capture his attention. It comes with a classy, top notch rotary, multi functional crown that helps you change watch faces along with many other tasks. 
To show him your unbound love, this smartwatch will also track his health vitals round the clock, motivating him to keep fit and healthy. Don't worry, he won't just ditch the watch because it needs everyday charging. beatXP Unbound lasts almost five days on a single charge. Also, he doesn't need to take off his watch every time he washes his hands or goes for a swim. Yes, beatXP Unbound is IP68 water resistant.
If you are worried about how he is always asking you to send that text or make that call, let the AI voice assistant intervene. The watch will also track his sleep for him, so you won't have to remind him of completing his sleep. 
We saved the best one for last- beatXP Unbound can detect his feelings and you can find out how he is feeling. Sneaky, no? Also, it has pre loaded games for him to enjoy and music control feature to control songs from the watch. 
Aren't these choices the smartest?Don't worry we've got you covered budget-wise also. Avail the valentine's day sale and get the smartwatches at the best price. Our love to your love- Happy Valentine's Day!
Checkout this blog if you are looking for valentine's day gift for her.