With valentine's day around the corner, we bring you the smartest watch for you to surprise her with
While chocolates and teddy bears, flowers and cards might still work, how about upgrading to a special smart gift? A gift that not only adds to her style and personality, but also helps track her health, and make advanced, enhanced calls? Here's introducing you to the best gift for valentine's day- the beatXP Marv Neo smartwatch.
What's so special about this smartwatch? You must be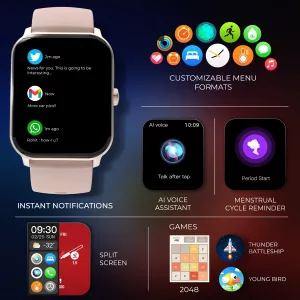 thinking that you don't want to overspend and maybe a smartwatch isn't such a good option. But here's the good part- Marv Neo smartwatch is light on price, heavy on features. It's the perfect way to show her you care, and the perfect way for her to add a touch of her personality to the watch. How you ask? Marv Neo has 250+ watch faces. The multi functional rotary crown allows you to change the watch face according to what suits your day-style. Cool, right? 
Let's dig a little deeper, and help you with all the marvelous features of our newest aesthetic marvel- the Marv Neo. 
Affordable watch with advance BT 
This smartwatch is equipped with the latest BT tech (BT 5.1) along with EzyPair technology that makes your calling experience more enhanced and effortless than ever before. Remember all those things you need your phone for? Making calls, receiving calls, sending an important message, or checking notifications? Not anymore. Marv Neo alerts you with instant notifications and lets you make quick calls from your wrist. 
So, the next time you are on a date, she won't look at her phone multiple times, because her wrist says it all! Isn't it the perfect gift for your girlfriend who likes to be updated with alerts? 
Our newest smartwatch- Marv Neo alerts your girl about her time of the month. Due to busy schedules, she may forget to keep track of her cycle, but not anymore. This thoughtful gift helps her stay on top of her game as the watch alerts her every month. 
You're definitely going to get the best husband/boyfriend tag with this considerate gift. Don't you agree? 
What's the best way to show her your concern? It's by giving her a stylish tech savvy gadget that helps her keep track of her health round the clock! beatXP Marv Neo is designed for 24*7 monitoring of health parameters like spo2, heart rate and even blood pressure. 
Think you know her heart better? Well, you've got competition now! 
Looking For the Best Smartwatch? – Here Is a Quick Buying Guide to Help You!
The aesthetically luminous display
Every girl likes the shine, and the sparkle. The beatXP Marv Neo is better, bigger and brighter! Featuring a 1.85" HD display, it offers you the ultimate user experience. It has 560 nits peak brightness. Makes quite a delightful gift idea for valentine's day, right? 
But what about charging? Does she have to worry about charging her smartwatch every other hour? Of course not. 
Get ready to dazzle her with the brilliant battery backup that our smartwatch has. The powerful 280mAh lithium battery of Marv Neo runs for up to a week on a single charge! Long travel plans for the weekend, or just a staycation? No need for her to carry her charger everywhere. 
We are sure this year's resolution was also to be more active together? Well, it doesn't matter if it didn't work out. It will now! Another reason that makes Marv Neo the perfect gift for Valentines is the active sport modes it comes with. With multiple sport modes in Marv Neo, you can find new ways to stay active everyday. Be it running or just walking, swimming or just cycling, Marv Neo will actively track your progress, motivating you to stay more fit. Marv Neo has 60+ sport modes. 
Gift her the perfect gadget that will help her understand her sleep patterns, so that she can sleep better and wake happier! Marv Neo actively tracks your sleep hours, identifies patterns, helping you understand your body better and manage sleep accordingly. 
She's definitely going to love this one! A gadget that executes tasks based on her commands! Yes, Marv Neo has AI based voice assistance that understands commands, and helps with tasks. 
Apart from all the amazing features listed above, Marv Neo is an IP68 water resistant smartwatch. Additionally, you get to control thousands of songs from your wrist as it offers you a 128mb flash storage. You can even play some games on Marv Neo as it's loaded with fun ones to kick out the boredom! 
Not to forget, Marv Neo is the definition of a sleek and stylish, fashionable and fiery smartwatch and will make the ultimate style quotient for your girl. 
 Thank us later for ending your search to find the best gift for valentine's day. You can check other smartwatches offered by us for your special one.
Happy Valentine's Day everyone!