What is your idea of relaxation? Probably a long massage? But wait. Did you make an appointment? Will you get one now? How much are you paying for it? Is it something you can afford every other day? 
The answer is probably NO. But we have not one but three perfect solutions for your intensely tense nerves that will help you relax and recover instantly. beatXP brings you the best budget-friendly massage guns designed especially for instant pain relief, and improved circulation, amongst other benefits.
beatXP Bolt Deep Tissue Massage Gun
One of our best-selling products, the beatXP Bolt massage gun, is everything you need to soothe your sore muscles. Ergonomically designed, the Bolt massage gun is extremely easy to use and effectively helps with muscle fatigue and soreness.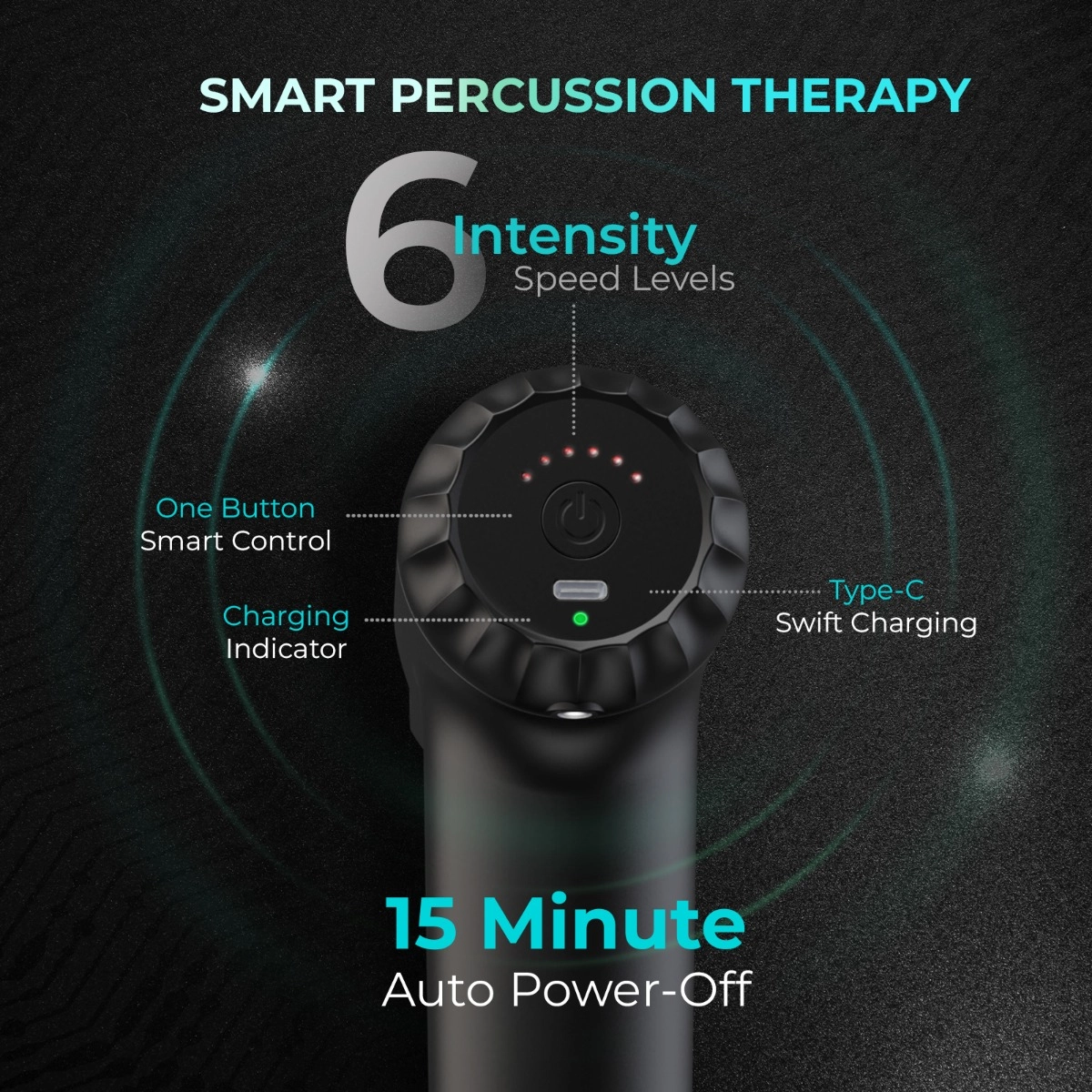 The bolt gun provides deep, powerful vibrations and targets your trigger points like the neck, shoulders, back, or even your calf muscles. It gets your blood going and has 6 in-built intensity levels. You get to choose your desired speed and unwind relaxation on the go.
The battery life of Bolt is also quite impressive. It lasts 3-5 hours on a single charge and doesn't heat up unnecessarily. Additionally, you get 4 attachment heads with a Bolt massage gun:
Fork Head: for high-pressure points such as neck & spine
Flat Head: for high pain areas such as joints, palm & foot sole
Bullet Head: for muscle joints
Round Head:

is the go-to attachment and is suitable for any body part
Grab this instant relaxation tool for just Rs 1999 on our website. Shop Now!
It's available in radiant colors also, like blue and red. 
Bolt Prime Deep Tissue Massage Gun
Are you worried that such a massage gun might be noisy, disturb all your family members, and not really get you the relaxation you want? We got you!
Featuring a powerful yet noiseless motor, the Bolt Prime deep tissue massage gun ensures a quiet session for you. The QuietWave technology ensures an almost noiseless operation with less than 45 dB noise production, even when used at the maximum speed intensity of level 6.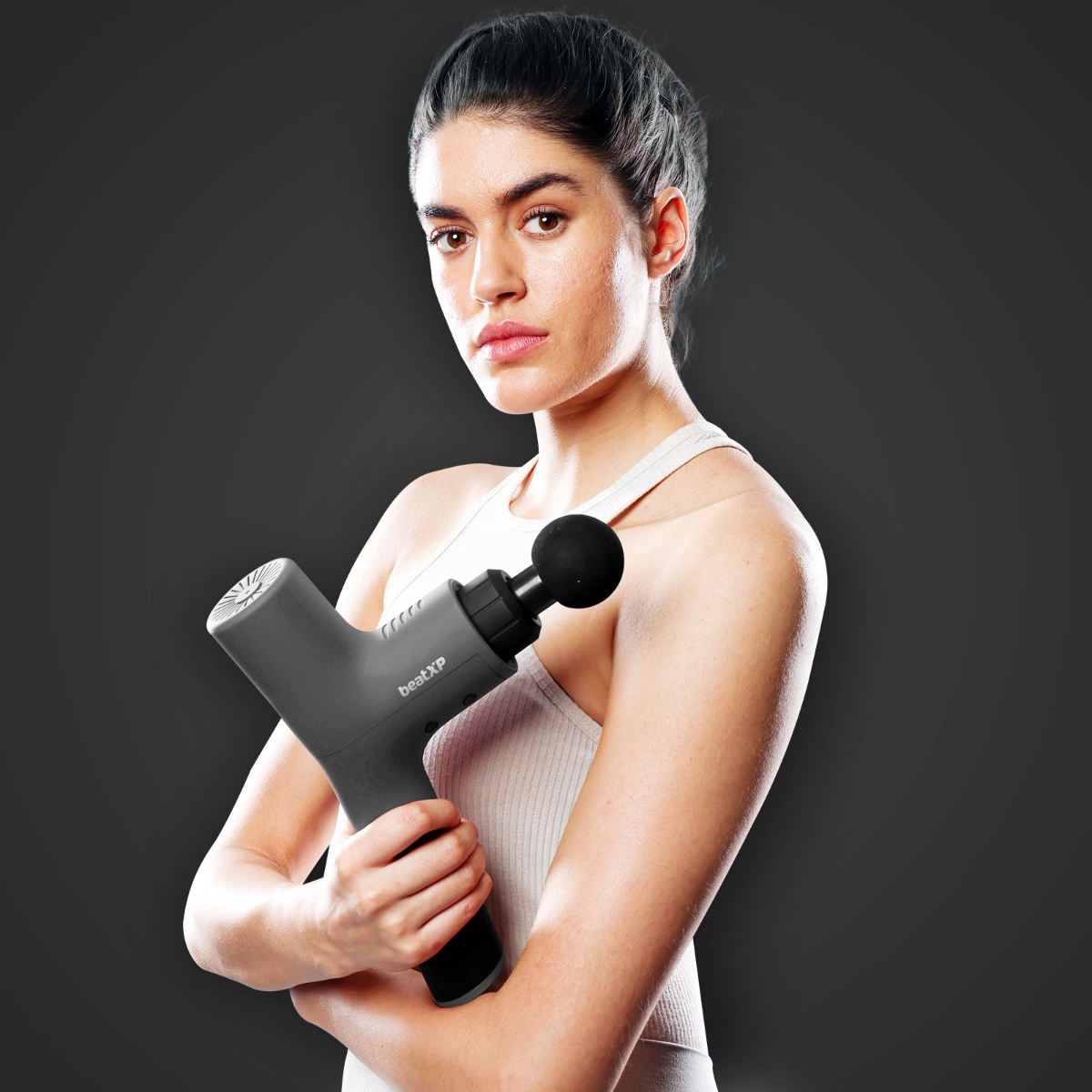 It has a frequency ranging from 1800-3200 RPM.
Not just that, the SwiftCharge technology ensures your massage gun keeps going for 3-5 hours. It also takes just 2 hours to charge completely. The four pro-grade attachments are interchangeable and designed to ensure no muscle group goes untargeted. 
Round Head: For large muscle groups like legs, back, biceps, and chest 

Bullet Head: For joint pain and deep tissue soreness

Flat Head: For wide muscle groups like thighs, glutes, etc.

Forkhead: For spine, neck, and shoulders
The price for Bolt Prime is only Rs 2999. Shop Now!
Bolt Elite Deep Tissue Triangular Massage Gun 
If you are looking for better massage depth and force control, the Bolt Elite deep-tissue massage gun is for you.
The massage gun reaches even the difficult-to-reach areas very easily, and the grip design provides infinite ways to hold the device without strain or added pressure on your hands and arms. The grips are standard, base, and reverse/inverse grip.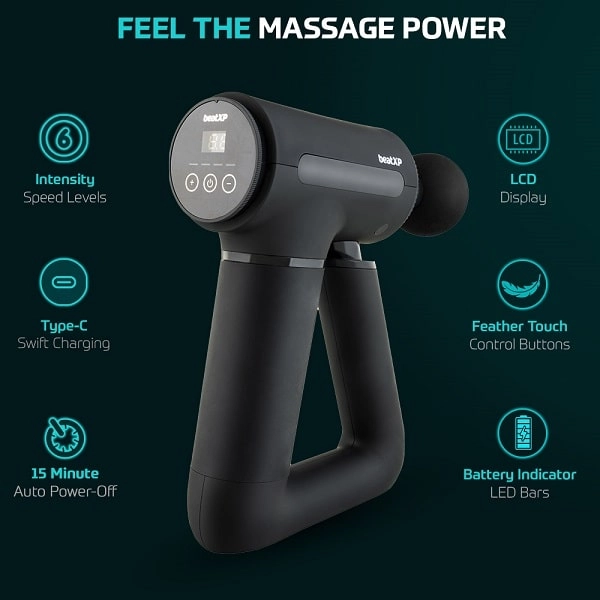 The Elite gun is best in terms of battery life. You can run this device continuously for 6-9 hours, and the easy-to-use digital interface with 3-button control will help you increase/decrease the speed, and the on/off switch will help you conveniently control the massage gun.
There is also a numeric display showing you the massage time. Like our other models, the Bolt Elite massage gun has 4 attachment heads to make your massage experience worth it.
A noiseless, powerful motor and quick charging add to the benefits of this massage gun. 
This massage gun will cost you around Rs 5200 on our website. Shop Now!
If you are looking for a relaxing tool for yourself or you want to give a thoughtful present to someone, these budget-friendly massage guns are your best bet. All these massagers help with the following:
Instant pain relief 

Better blood circulation 

Improved flexibility and mobility

Better performance 

Relief from fatigue

Relief from muscle soreness 

Detangles muscle knots

Injury prevention 

Better sleep 
Explore our range of massagers on our website now, and relax like a pro from the comfort of your home.