Foldable Massage Chairs are no less than big bulky Massage Chairs that you have seen in shopping complexes or entertainment zones. They are fully equipped with features, thanks to ever-evolving technology that is making the experience of massage chairs affordable to everyone!

Its features lace technology not only provides you a customized massage experience, but it would also make sure that you can enjoy a full body massage experience anytime anywhere without burning a hole in your pocket. So, let's first understand all the features offered in a top-notch massager chair by beatXP.
beatXP Deep-Heal Shiatsu Massager Chair – It is one of the best foldable Massager chairs available in the market with all the features, coming with an additional 1-year warranty to assure its outstanding durability. It is made up of premium PU leather, breathable mesh fabric, state-of-the-art electronic & mechanical components, and a highly responsive electronic system that enables a person to use all its features easily with the help of a remote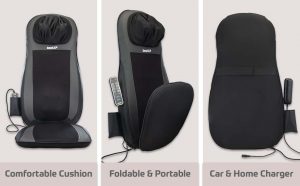 Product Highlights
Vertically Moving 3D Massage Rollers –

In addition to clockwise & anti-clockwise movement, its 3D Rollers also move vertically up & down providing you a full body massage experience just like human fingers.

Warm-Comforting Infrared Heating Therapy –

Infrared Heating enables the chair to slightly heat up your body with varying intensity. It not only boost blood circulation, but it also helps in loosening up your muscles and amplifying the 3d rollers massage experience.

Full Body Massage Experience –

Its Ergonomic Shape and presence of multiple 3D Rollers in the chair ensures you can enjoy the massage experience at your neck, shoulder, back, lumbar, and hip region. The best part is that you can target multiple muscle groups at a time. It not only helps in better blood circulation but provides you with an extraordinary massage experience and an instant relief from mental & physical fatigue.

Air Pressure Vibration Therapy at Hips & Wasit –

Along with a powerful bi-direction vertically moving 3D Massage Rollers, and infrared Heating Therapy, It also provides you with a vibration therapy at hips & waist with varying intensity ( high, medium, low). Vibration Therapy has well-known benefits to increase metabolism, blood circulation, bone density, and to reduce stress, back pain & joint pain. 

Powerful Remote Control –

All the features stated above – heating therapy, vibration therapy, vertical movement of rollers, & speed adjustments can easily be done on a real-time basis with the help of a powerful remote control just like you would be instructing a masseuse to make the massage experience highly customized & more relaxing.

15-Minute Auto Shut Down Safety Feature –

Its Smart AI Chip automatically shuts down the heating feature after 15 minutes, ensuring that the massager chair is never overheated to protect its mechanical parts and to stop the excessive use of massager chair on a single group of muscles for a prolonged period.

Premium PU-Leather with Breathable Mesh Fabric – Premium PU Leather & Breathable Mesh Fabric ensures the massager chair is friendly to human skin during physical contact, easy to wipe off sweat or dust from the massager chair. Its high-quality fabric with impeccable padding & assembly, also ensures the massager chair could easily be used multiple times in a day easily for a few years.
Lightweight. Portable ( Suitable to use at Home, Office, Car Drives) – Its foldability, ergonomic Design, lightweight, and portability ensures that the massager chair can be used at home while working on laptops or while watching your favorite sitcoms. It could also be used at your office or shops, wherein you have to sit for long hours on the chair It would not only help in improving posture & back-pain but would boost your productivity as well by helping you relax your mind & body. With the help of its Car Charger, it could also be affixed to your car seat during long drives.
1-Year beatXP Brand Warranty – To ensure a good customer experience, beatXP is offering an additional 1-year Warranty on its Massager Chair.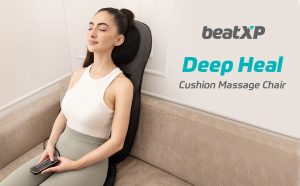 Now, we have understood all the great features offered by one of the best foldable massager chairs in India, let's understand how much does it cost and how is it a steal deal as compared to big bulky massager chairs available in the market. 
beatXP Foldable Massager Chair has more features as compared to bulky massager Chairs available in the market. It is portable, can be used at the comfort of your home or office, and would only cost you Rs 13,999 as compared to lakhs of rupees cost of those big bulky massager chairs. It would also take less space at your home and would save you thousands of rupees annually in physiotherapy or medical bills by keeping you more physically & mentally active.
Let's now understand the benefits of a good Massage/Massager Chair, which is being highly adopted & practiced in developed countries as compared to developing countries like India.

Most of us already understand that massage = Relaxation, but it has much more to it than just physical & mental relaxation. Many health issues can be managed by good home massager equipment, in addition to boosting blood circulation, immunity, energy, wellness, and metabolism. 
Top Benefits of Massager Chairs
Improves Blood Flow, Oxygen Flow, and flushes the lymphatic Systems that helps in removing toxins from our body

A very good Treatment for Lower Back Pain & Lumbar Region Pain

Reduces Anxiety, Stress, and Helps in Inducing Better Sleep

Very Effective in Post-Workout Muscle Recovery, os Sports Injury Recovery

Helps in fighting Stiff Muscle Problems

Alleviate Stress-Related Health Problems & helps you in staying mentally fit

Aids Chiropractic Efforts for Sciatica ( Spine -Related Issues ) Treatment
Getting an easy massage at the comfort of your home or office is a great way to start your day or rejuvenate yourself. Watch your favorite sitcoms, or play your favorite music and let your body & mind energize for the day! We hope you have liked the article & learned more about the potential benefits of body massagers & Massage chairs. Do check out other massagers offered by beatXP.