The majority of us sit for long hours- courtesy of our desk jobs. Sitting for long periods of time leads to muscle soreness, fatigue in neck and shoulder muscles. Apart from this, those of us who workout are pretty familiar with DOMS or acute muscle soreness.
Table of Contents:
Percussion Therapy

Best Deep Tissue Massage Gun

Specifications of beatXP Bolt

Benefits of beatXP Bolt 

How to Use beatXP Bolt
What are the solutions you could try? 
Pain Killers:

 you could pop in a pill or two, but it's not an everyday solution. Too many pills can be very harmful for your organs. 

Book a Massage Appointment:

you could book an appointment for tomorrow- provided you get one! 

Stay in Bed:

We all wish that was a permanent solution- but it's not. 
Or you could just reach for a device that helps with instant pain relief, prevents soreness and helps you relax within 2 minutes! Sounds fancy, right? 
Percussion Therapy: 
Percussion therapy soothes your sore muscles with the help of a massage gun. The massage gun is used on a targeted muscle group and strikes the muscle tissues, increasing blood flow, flexibility of muscles and good range of motion.   
Which is the best deep tissue massage gun? 
One of the best and most used massage guns, beatXP bolt deep tissue massage gun, helps with effective pain relief. The benefits of massage guns are many- right from improved circulation to instant pain relief. In this blog, we are listing all the benefits of this massage gun, how to use a massage gun, its specifications etc.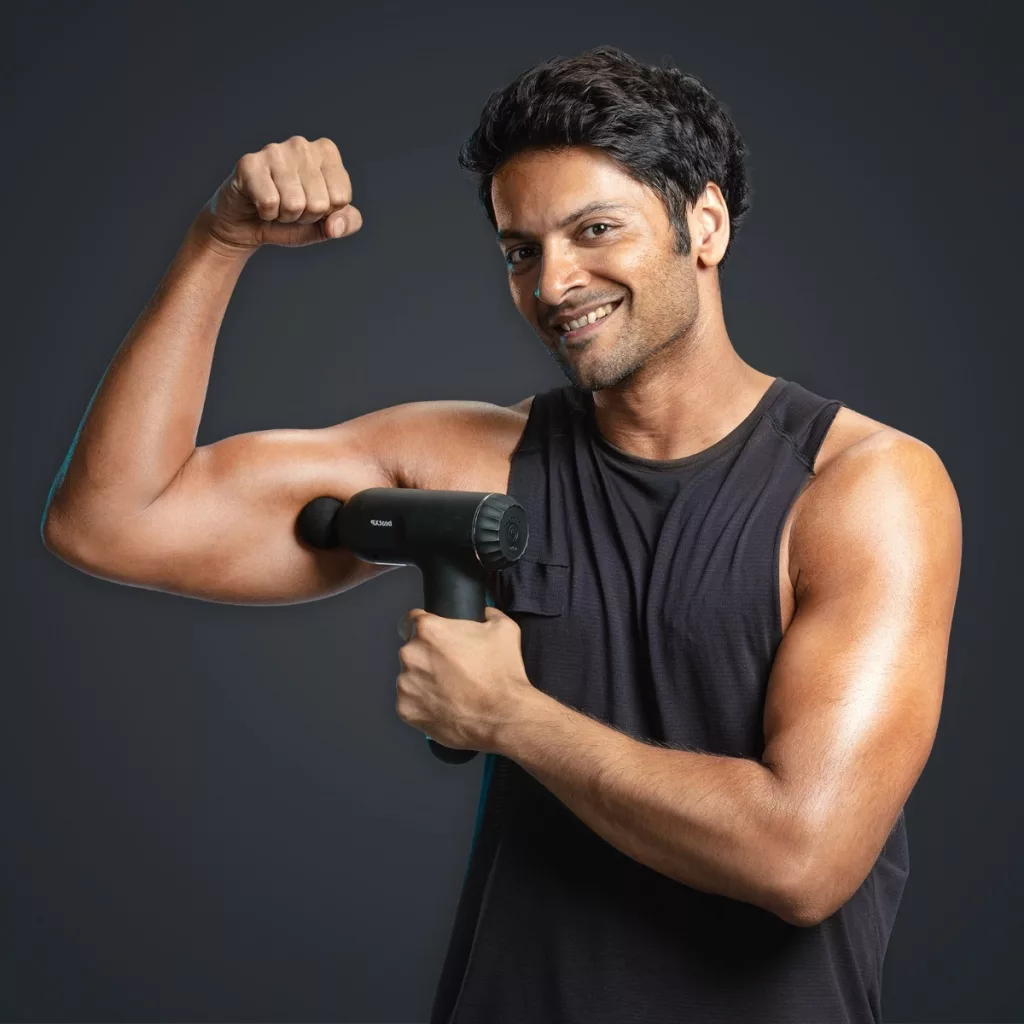 Specifications of beatXP Bolt:
beatXP bolt gun has a very powerful motor with frequency ranging from RPM. It can support different intensities with its motor and help you use it for as long as you want without having to worry about it heating up.
If your massage gun does not have a strong battery life, the massage intensity will suffer immensely. Powered with a high quality 4000 mAh lithium-ion battery, the premium massage gun is equipped with SwiftCharge technology. The technology gets your device going in 2-3 hours.
Equipped with the QuietWave technology, the premium massager has an almost noiseless operation with less than 45 dB noise production even while being used at the maximum speed intensity of level 6.
You can hold the massage gun very easily as it's designed to be very comfortable and easy to use. The T-shaped angled design and extra-long handle with rubber grip ensures more variability and provides a premium massage experience even in difficult-to-reach areas. You don't have to exert a lot of force & strain on your wrists when using the beatXP bolt massage gun.
Adjustable Speed Variation:

 
The Massage gun has one button smart control on the bottom of the handle to adjust speed levels with an LED indicator to identify the same.
The device comes with 4 easily detachable heads with a Zip pouch to store them. The heads ensure each & every muscle group is targeted. 
Fork Head

for high-pressure points such as neck & spine

Flat Head

for high pain areas such as joints, palm & foot sole

Bullet Head

for muscle joints 

Round Head

is the go-to attachment and is suitable for any part of the body.
beatXP offers an 18-month replacement warranty to ensure the best customer service. Use a charging adapter with up to 10 watts power output and the charging cable included in the box for best results. It is also recommended to charge the massager for 3-4 hours before using it for the first time.
Benefits of beatXP Bolt:
Improved Blood Circulation: 
beatXP bolt provides deep vibrations which helps improve blood circulation. And, when blood circulation improves, your muscles repair and grow when you use a massage gun on the targeted muscle group. For example if your calf muscles hurt, you can use the round head for instant relief. 
Once your blood circulation improves, the flexibility and mobility increases. Using a best quality massage gun like beatXP Bolt helps release tissue tension, improving tissue metabolism and health immensely. 
As mentioned before, DOMS is a condition that will bother you if you workout strenuously. Most of the people who use massage guns are because of this condition. Using a premium massager like beatXP bolt, your sore muscles will be relaxed as it targets exactly the pain points. 
If you use a massage gun before working out, your muscles wake up and reduce the chance of any injury.
When your muscles are relaxed, you tend to perform better. You no longer have to miss out on important workout days because of muscle soreness or fatigue. 
Reduces Stress and Anxiety:
We see people usually booking massage appointments when they are stressed and anxious. This is because massages help you relax by untying the knots and tension in your muscles, instantly making you feel energized. Now, with the help of massage guns, you can get a professional massage like experience right from the comfort of your home. 
These are the top reasons we feel you should invest in a good quality massage gun. It's an absolutely safe, instant and effective method to help you effortlessly say goodbye to soreness, fatigue, inflammation, and improve your performance. 
beatXP Bolt is already a favorite amongst the audience. We've had some amazing feedback from the audience. Have you tried it yet? 
You can checkout the premium range of beatXP full body massagers.