When the pain gets too excruciating to bear and pain killers and balm fail, your next instinct would be to look for massagers for back and neck pain online. It is the only logical thing to do and frankly, it is what you should have done in the first place. Luckily, we have already compiled the list of the best massagers to assuage your pain.
A massager is the most natural and effective way to treat body aches. It increases the blood flow in the affected area and soothes any pain or discomfort. The best thing about massagers is that you can use them regularly to enjoy their therapeutic benefits, like healthy skin and a better sleep cycle.
Thank god for our exquisite range of handheld massagers that will do more than kiss away your pain and even be your rightful hero because we all know Enrique will not. LOL!
Things to consider before buying a massager for back and neck pain
There are so many massagers for back and neck pain available out there. But which one is the most suitable for you? Considering these pointers will avoid the regret of wrongfully spending your money when you were hoping for something else.
Percussions: Deeper the percussions, the more effective the treatment is. A massage gun has deeper vibrations than handheld massagers. All of them are, however, deeper and more effective than human hands.
Type of massager: Are you looking for a cordless massager, a handheld massager, or a massager cushion? Make sure you have answers to all these questions before you finalize anything.
Additional features: Some massagers have features like attachment heads, soothing heat therapy, and varied intensity levels to give you a personalized experience. Make sure your massager checks all the features you are looking for.
Price: Massagers for beck and neck pain come as cheap as INR 1000 and as high as 12000 depending upon their features and functions. If you have a budget in mind, then you could look for massagers in a particular price range.
7 Best Massagers for Back & Neck Pain
Now, getting to the point! Here is a curated list of massagers for back and neck pain, each unique in its benefits and usage.
1. Bolt Deep Tissue Massage Gun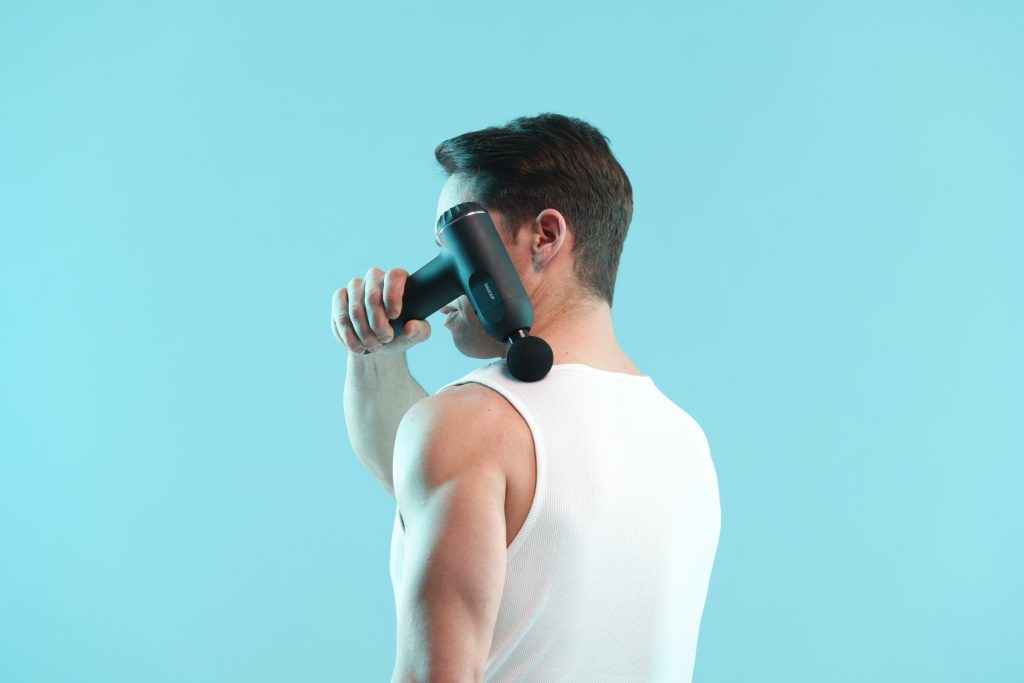 If you haven't considered massage guns for your back and neck pains, then it is high time you should think of getting one. The numerous benefits of massage guns make them a worthy investment for pain and stress management.
Its strong vibrations impact deeper than a gentle hand massage, proving more effective in relieving pain and improving blood circulation in the targeted area. It is so easy to operate even the elderly can use it for their pains and poor blood circulation. You can even tag it along with you for instant relief from pain and fatigue.
Unique Features of Bolt Massage Gun
Powerful, deep vibrations
4 attachment heads
Lightweight & cordless
Long-lasting battery
Price: INR 1,999 – INR 2,099
2. DeepHeal Massager Pillow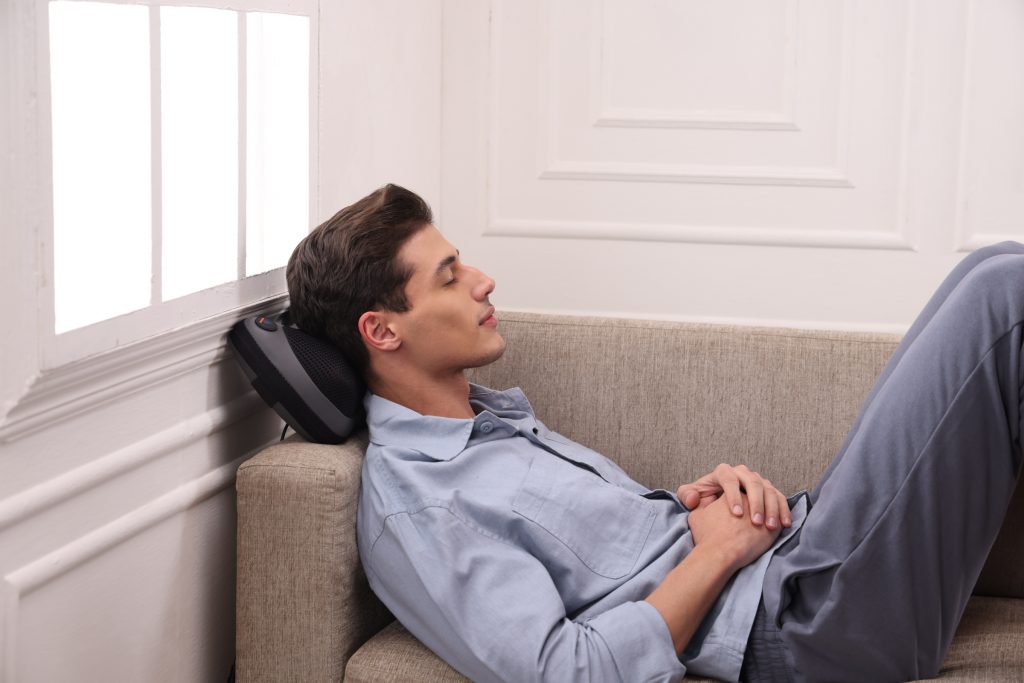 Your search for the best neck massager ends here! Think of DeepHeal Massager pillow every time the work starts piling up and you find yourself in a need of a soothing neck rub. Its deep-kneading nodes will massage you better than human hands. The multi-purpose neck massage pillow even comes in handy during abdominal cramps and foot massages. You will be killing not two but four birds with one stone!
Unique Features of DeepHeal Massager Pillow
Multi-purpose massager pillow
Soothing infrared heat option
Bi-directional rollers
Portable and compact
Price: INR 2,099 – INR 2,300
3. DeepHeal Neck and Shoulder Massager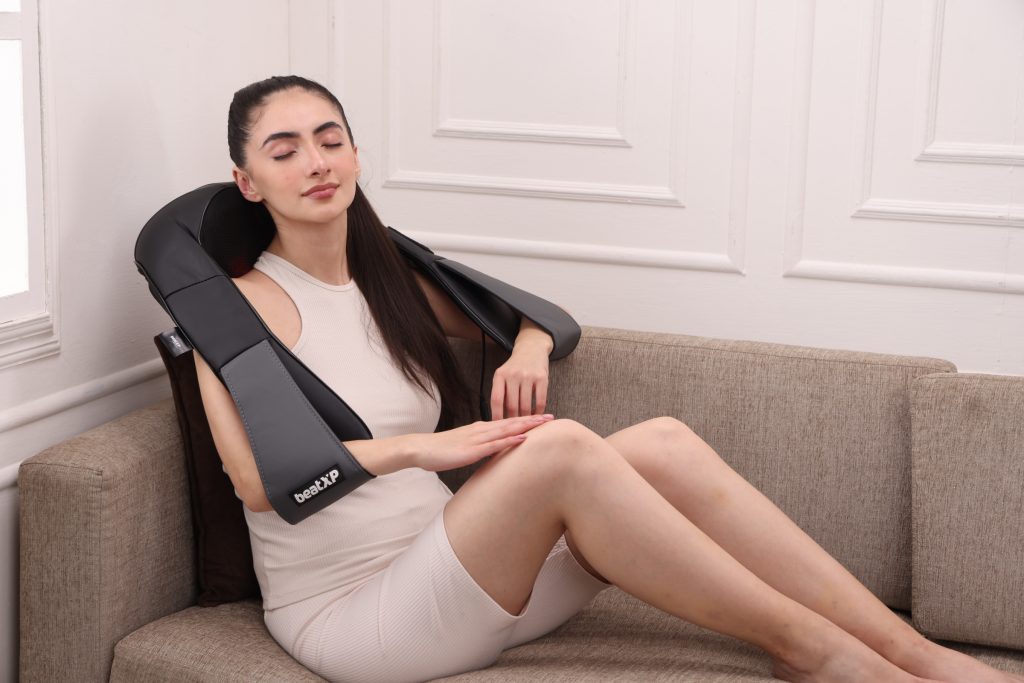 With DeepHeal Shoulder massager, your nagging neck and shoulder pains have no chance to return. What makes it the best neck and shoulder massager are its deep kneading nodes. It directly attacks the stress frozen in your neck and shoulder region. Enjoy a deep tissue massage accompanied by soothing heat sensations to relax pain and stress. You can even get innovative with its use and use it for the back, calves, foot, and arms.
Unique Features of DeepHeal Neck & Shoulder Massager
Deep kneading nodes
Soothing heat therapy
Easy control buttons
Premium quality, skin-friendly fabric
Price: INR 2,699 – INR 2,999
4. DeepHeal Shiatsu Massage Cushion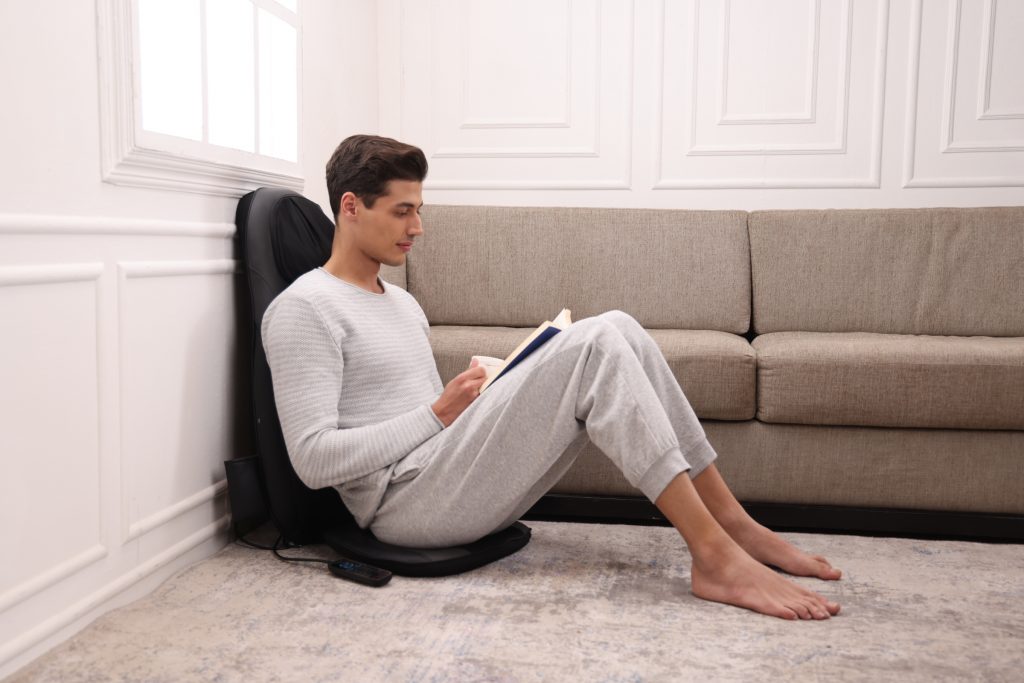 If you are purposefully looking for Shiatsu back shoulder and neck massager with heat, then look no further than DeepHeal Shiatsu Cushion Massager. The comprehensive massage cushion provides lumbar support and a full-body massage. Its bi-directional rollers dig deep into your tissues to hit all your sweet spots at once. The handheld remote control gives you the complete charge to enjoy a personalized experience.
Unique Features of DeepHeal Shiatsu Massage Cushion
3 massage modes: Pressing, Kneading, and Shiatsu
Infrared heat option
Seat vibration therapy
Corded remote control
Car plug and home adaptor
Price: INR 13,999 – INR 14,199
5. Blaze Pro Handheld Massager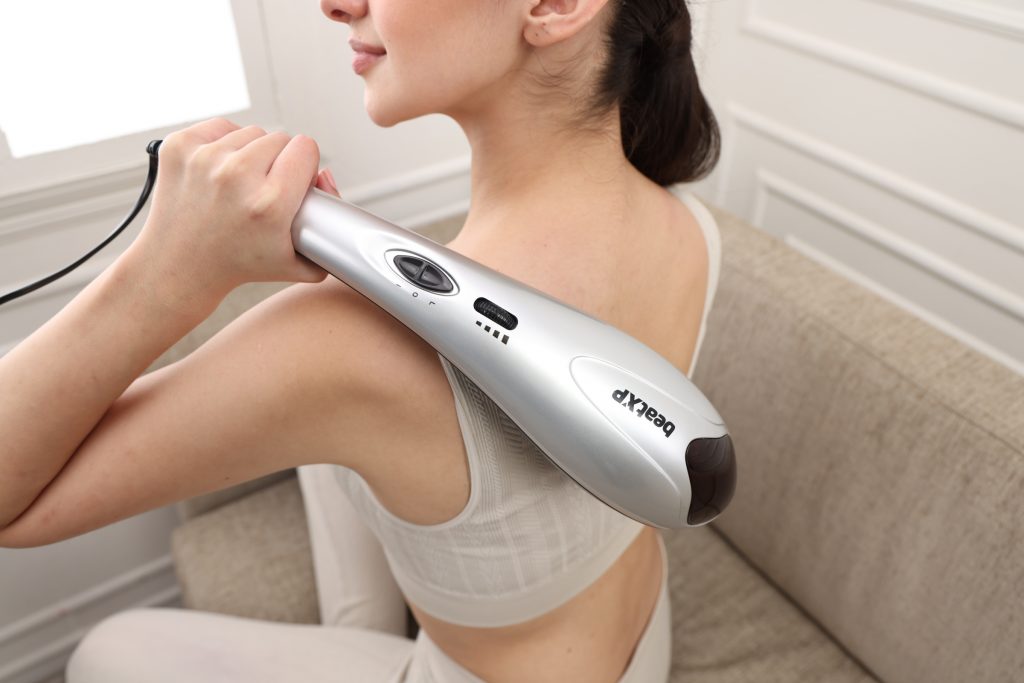 You think there is nothing more relaxing than a spa. Wait till you enjoy a comforting experience with Blaze Pro. The electric handheld massager calms down your stressed nerves with its soothing vibrations. Don't just consider it your regular back and neck massager. Its unique attachments scrape off dead skin, keeping it healthy and wrinkle-free. With its extra-long, ergonomic handle, you won't have to struggle for reaching difficult areas, like the back and calves.
Unique Features of Blaze Pro Handheld Massager
Long, ergonomic handle
3 unique attachments
Intensity regulator
Price: INR 1,399 – INR 1,499
6. Blaze Handheld Massager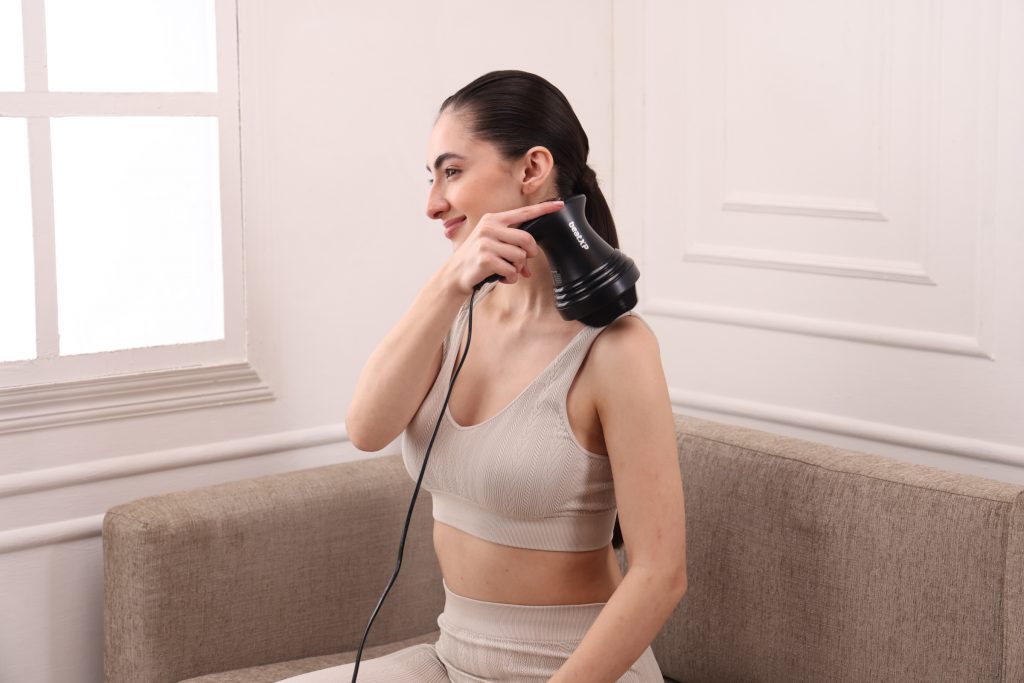 The ultimate neck massager machine for your menacing pains, Blaze makes your life comfortable and pain-free. Self-care won't seem much of a hassle when you enjoy regular massages with Blaze. Not only does it alleviate pain but also gives you tight and healthy skin. The fun does not stop here. Make foot massages an everyday affair with Blaze handheld massager.
Unique Features of Blaze Handheld Massager
3 unique attachments
Long power cord
InfraRed option
Price: INR 1,499 – INR 1,999
7. Bolt Elite Massage Gun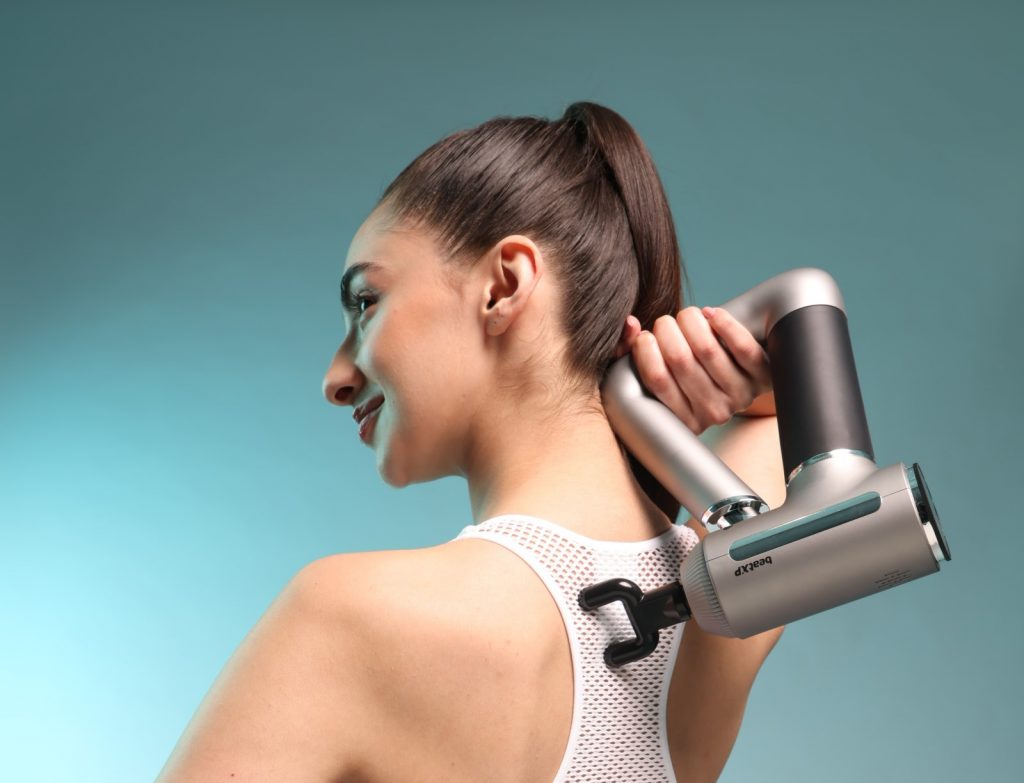 Another one in the league of massage guns, Blaze Elite is here to win over all your muscle problems. An effective back and neck massager, its powerful and deep vibrations uproot pain from the source. With its ergonomic triangular grip, you can try numerous variations to hold it and use it effectively against your muscles.
Unique features of Bolt Elite Massage Gun
Ergonomic triangular grip
Long-lasting battery
4 elite attachments
Price: INR 5,199 – INR 5,299
These were some of the best massagers for back and neck pain to provide you comfort in times of distress. Depending on your budget, expected features, and problems, you can make a suitable choice for yourself before you decide to invest in self-care.
Disclaimer: We do not advise treating serious injuries and pain with massage guns. Please consult your doctor or physiotherapist for appropriate treatment and how you can include massage guns in your fitness journey post-care.