For a person who is very enthusiastic about his/her fitness, an air bike or exercise bike is certainly a good option. 
Adding an air bike to your fitness arsenal will level up the exercise game. What's even more interesting is the fact that these bikes are loaded with innovative features to improve your workout session.
If you are looking for a gym cycle or air bike for exercise and you don't know how to pick the best exercise bike, we are here to help. Here is a detailed guide to help you make an informed decision to buy the best air bike.
Why choose an Air/Exercise Bike? Benefits of an Air Bike for Exercise
There was a time when exercise bikes or air bikes were not considered a prerequisite for fitness at home; thanks to the easy availability of gyms. But then, the coronavirus pandemic changed our lives drastically. 
Over the period, we became more aware of the importance of exercise to maintain overall health. As gymnasiums were closed during the pandemic, everyone started to purchase home exercise equipment to ensure that their fitness routine was not compromised. The pandemic is over now but people are still enthusiastic about purchasing equipment like exercise/air bikes, dumbbells, etc. to make their home gym complete. 
So, the best reason to buy air bikes is to get a full-body workout at home. But that's not the only benefit, these stationary cycles have lots of other benefits, as below- 
Improve Heart Health-

Biking for 150 minutes per week with moderate effort improves overall heart health by improving circulation. 

Lower Blood Pressure & Cholesterol-

Exercise bike helps to keep the blood pressure levels within the specified range and also reduces cholesterol levels in the blood. Both these conditions are controlled properly with a 120-minute session of vigorous cycling per week.  

Burns Calorie

– When you exercise, the extra calories consumed with food are burned easily. This can be done with moderate-level biking as well as vigorous biking. 

No Stress On Joints-

One of the greatest benefits of using an air bike is the fact that it puts no stress on the leg joints. Stationary bikes tend to be easier on the muscles and joints than other high-impact exercises like running and jumping rope.  

Strengthens & Tones Muscles-

Biking involves extensive movements of the front and back muscles of the upper legs called quadriceps and hamstrings. Along with these, the calf muscles and hip flexors also get worked up during biking. The workout strengthens all these muscles and improves the tonality as well. 

Easy to Use-

There is no special training needed to ride an air bike. It is the easiest exercise equipment available on the market. In addition, these bikes are very user-friendly in terms of design and tracking your workouts. 

Ease of Availability-

Having an exercise bike at home gives you the ease of accessibility to work out whenever you want. No matter what time it is or what the weather conditions are, you can have a workout session without going anywhere. 
Lifts Mood- Agree or not, exercising is an amazing way to pump up the blood, take out frustration, and lift your mood.
As you can see, an air bike is versatile gym/home equipment. So, if you want to get a gym cycle for home, you should know what to look for in the exercise bike.
What Should You Look For In An Air Bike?
Here are some important features you should always look out for in a weight loss air bike. 
Noise

– Excessive noise can be an issue for some people. So, while you are choosing the bike, check how much noise the air bike makes during normal workouts and during high-intensity interval training. 

Weight

– Different air bikes have different weights. You should choose one according to your body weight. Remember that if you choose an exercise bike that is very light-weight, there are higher risks that the bike will lose its balance during your workout session. 

Construction

– There are different variants of air bikes available. Some are like a stationary cycle that will stay in one place, others can be moved like an actual bicycle. Pick the one according to your use. 

Technology

– Some air bikes come with multiple features integrated into them. These features are a heart rate monitor, distance calculator, time calculator, and calorie burner. In addition to these, the bikes also have a digital monitor to display these statistics and training measurements. 
Adjustments– Few exercise bikes may not give you the option to adjust seats and pedals to personalize the bike according to your height. But this feature is very important. If the seat is too high compared to the length of your legs, it will be difficult for you to reach the pedals. So, don't overlook this feature while doing the search.
Air bikes are brilliant for people who wish to get high-intensity interval training without putting excessive pressure on the joints. And choosing the wrong exercise bike will greatly impact your overall fitness. So, while you are considering the options for the exercise cycle for weight loss, keep these above-mentioned points in mind.
Best Air Bikes for Home Workout
Take a quick look at the top 5 air bikes and choose the one which can help you achieve your fitness goals. 
This air bike/ exercise bike is one of the best exercise equipment for home. It simplifies the fitness routine and works on the entire body for optimal weight loss. Some of the key features of beatXP air bike 4M are-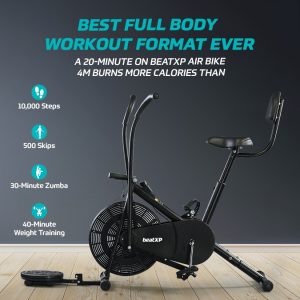 Twister exercise machine to focus on belly fat.

Moveable handle to support arms movement and focus on chest muscles. 

Large LCD monitor for exercise tracking, including time, speed, distance, and calories burned. 

Strong build that can support up to 100 kg weight. 

Compact size to fit the bike on the balcony or bedroom easily. 

Comfortable seating with floating cushion and a backrest. 

Easy to install and zero maintenance needed for this stationary bike. 

6-month warranty for manufacturing defects. 
This dedicated air bike designed and manufactured by beatXP is another cost-effective gym cycle for home. The key features of this bike are- 
Non-slip pedals with adjustable straps. 

Comfortable seat with cushions to prevent muscle stiffness and backaches.

Eight different resistance levels and a tension controller knob. 

User-friendly LCD monitor to measure speed, calories burned, time, and distance. 

Belt-based resistance mechanism for momentum-based recovery and pedaling technique. 

Noiseless operation and durable, portable, and premium quality material. 
3: Schwinn Airdyne AD7 
Schwinn is a brand that is known to provide durable products with long warranties. And the Airdyne AD7 is such an air bike that has ample options for at-home workouts. 
It has the following features- 
Workout programming, including heart rate monitoring, distance targets, time, and calories. 

Works as a leisurely ride for low resistance exercise. 

Nine programmable workout options. 

Multi-position handles with a telemetric heart rate monitor. 

Optimized fan for high resistance. 
4: Rogue Echo Bike 
Rogue Echo Bike is another option for an exercise bike. It has a quick stop and low-maintenance belt drive. The bike has a very large build which makes it stronger and sturdier but also impacts its portability. 
The features of the Echo Bike are- 
Aluminum-made fan blades for better build quality. 

Add-ons available, such as wind guard, phone holder, and bottle cage. 

LCD console with customizable exercise modes. 

Aesthetically pleasing black powder coat finish. 
5: Assault AirBike Elite 
The principle used behind the Assault AirBike is combining the features of air bikes and treadmills. It uses spinning fans to create unlimited resistance without making much noise. Compared to other air bikes, it is very big and heavy, which ultimately makes the bike more stable for a smooth and natural ride. 
The key features include- 
Bulkier steel frame for better stability.

Comfortable seat with more seating area.

Integrated LCD display for performance tracking 

Bluetooth connectivity feature 

Ease to assemble
Get Ready to Air Bike Every Day!
The last thing to discuss here is whether or not air bikes are worth it. 
The worth of an air bike entirely depends on the individual's perspective. For a fitness enthusiast, an air bike is definitely a good investment. It is one of the best options for a mix of cardio and strength training exercises. And based on the choice made, people can also do high-intensity interval training (HIIT) or low-impact workout. Overall, they are a great choice for the exercise cycle for weight loss. 
Hopefully, now you are aware of the benefits of air bikes, the features to look for, and the options that you can consider. So, pick the one that suits your needs, wear comfortable clothes, put on your athletic shoes, and start riding the bike.