Exercising is all the rage nowadays, and after COVID lockdown, home workouts are in. There are some essentials you need while working out: good shoes, water, a towel, and, most importantly, a yoga mat. Whether you are performing yoga asanas or HIIT exercises, a good yoga mat is a must to avoid injury and perform the exercise/asana in the proper posture. 
Shopping for online yoga mats can be very challenging as you are constantly bombarded with choices. We are discussing several key points here that you should keep in mind while choosing your mat for yoga asana or yoga mat. Let's start.
Thickness is one of the most essential criteria you need to decide about your yoga mat. Mats usually come in a range based on their thickness, starting from 4 mm. 4mm yoga mats are usually good enough for most exercises, but if you need extra padding for sensitive yoga postures, if you are old/pregnant and want a thicker yoga mat, you should select a yoga mat with over 6 mm thickness.
Grip refers to the ability of a mat to stay in its place while you are changing asanas or performing high-intensity exercises. A yoga mat with a tight grip helps avoid injury while transitioning and holding different postures.
Most yoga mats in the market are made of recycled plastic such as EVA or PVC that don't absorb sweat. They are easy to clean but don't offer a good grip while exercising. Moreover, they can even cause skin rashes in some people. Generally, TPE mats are considered the best in terms of absorbability and durability. If you are shopping for a yoga mat online, check out the material in the product description section.
Proper grip is essential while exercising/doing yoga. Your mat should be able to absorb sweat and water to protect you from slipping or falling while performing complex yoga/exercise activities. Make sure you find the correct mat texture/pattern with excellent traction for good stability.
The standard size for most yoga mats is 6 ft. x 2 ft., and most yoga mats online come in this size. But if you need a bigger or smaller yoga mat based on how much space and portability you need, you should look for the right-sized mat for you. If you buy a mat that is too large, you may find it difficult to carry it, while a small mat may not contain all your limbs while exercising.
Most people don't consider color to be an important factor when choosing a mat. But, the right color mat can help boost your mood during a long workout session or even encourage you to start working out. Don't disregard the color of the mat and choose the one you really like.
One of the biggest advantages of a yoga mat is that you can take it anywhere you want to work out, whether it's a park, yoga studio, or even your own living room. If you buy a mat that is hard for you to transport, then it simply defeats one of its largest benefits. Make sure you consider how you are going to carry your mat and how easy it will be.
Most shopping sites will bombard you with choices for online yoga mats in different cost ranges. Don't panic! Set a budget limit and then start looking for the best options in your budget. Compare the options in your wishlist and make the final decision.
So, now that you have your yoga mat, you're ready to work out to your heart's content.
Some choices you can consider for your yoga mat are:
Product descriptions and features:
Size: 6" x 2"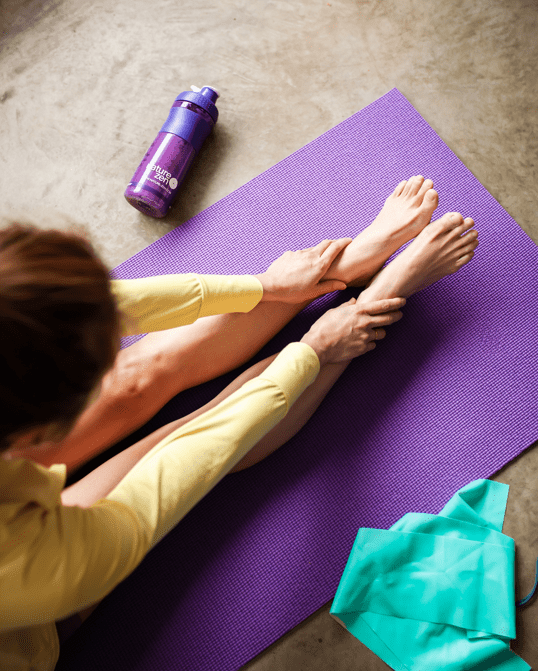 Available Colors: Purple/ Blue
Non-toxic, odorless EVA material with anti-skid technology

Tear-proof material for extra durability

Waterproof, sweat-absorbent & easy to clean

6 mm thickness- perfect for all types of home workouts

Bigger sizes available

Lightweight and easy to carry
Product descriptions and features:
Size: 6" x 2"
Available Colors: Purple/ Blue
Non-toxic, odorless EVA material with anti-skid technology

High durability with 4-sided stitched anti-tear border

Absorbent, waterproof & easy to clean

Thickness – 6 mm, perfect for all home workouts

Bigger sizes available

Ample cushioning & rebound resilience  for spine, hips, knees & elbows on hard surfaces 

Built-in foldable & easy to carry thread
Product descriptions and features:
Size: 6" x 2"
Available Colors: Blue/Purple/Black/Orange/Grey
Printed drawings of yoga asanas (surya namaskar) to promote mental peace during exercises

Reversible mat

Long-lasting and durable EVA material

Textured patterns on both sides to prevent skidding

Absorbent, waterproof & easy to clean

6 mm thickness

Tufted texture foam material for better grip and soft feel

Available with a complimentary easy-to-carry bag
'The only bad workout is no workout.' – so, get a yoga mat and start your fitness journey today. If you can't visit a gym, start your workouts at home, after all, the distance between you and your fitness goals can only be met one workout at a time.